Challenge map for original Zero Hour and for Contra mods. Now you`re fighting in the ancient and mysterious continent of Lemuria.
Part of the World of Infinitas project
Recommended to fight by 1 player with 2 Hard AI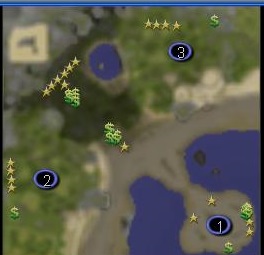 Lemuria - is an ancient and mysterious continent, home of mighty Lemurian kings. It was sunk a lot of thousands years ago. But now, some parts of it are rising again. You are going to explore this.... But you are not alone here. Beware, other forces wants to explore it, and even more then you. Beware... You will have a huge battle for Lemuria treasures.
Its have bonus Chinese Nuclear command center around. AI is also much stronger.
Its better fight in this map against 2 GLA factions. Its will make more... adrenaline.
Install it to Maps folder and activate from skirmish game mode.
Its possible to use with other mods. I recommend you Contra 007 or higher, or maybe also Shockwave
Scenario and idea author - BagaturKhan